When you're camping, it can be easy to miss some of the comforts of home. Although spending time in an RV isn't quite the same as being in your own home, that doesn't mean you'll be completely roughing it. Here are ten comforts of home you won't have to give up when you go on an RV trip.
1. Electrical outlets. When many people think of camping, they think of roughing it with limited access to electricity and communications. Fortunately, when you go on an RV trip, you have access to electrical outlets. This means you can power up your phone or iPad. Even better, if you've been digging in to the latest Harry Potter book on your Kindle, you won't need to wait until you get home to recharge your battery.
2. Internet service. You may be worried about not being able to access the Internet without racking up a huge bill from data charges. Fortunately, this often isn't a problem. Many campgrounds and RV parks provide free Wi-Fi access, making it easy to stay connected without running a high bill.
3. Household appliances. While many RVers opt to use the grill at their campsite to cook, it's also a snap to cook inside an RV. Many are equipped with all the household appliances you have at home, including a stove, sink, refrigerator and a microwave. Some even have an oven – perfect for baking cookies.
4. Refrigerated snacks. It can be easy to miss reaching into the fridge for a snack when you're not at home. Fortunately, RVs come equipped with fridges where you can store snacks. Most refrigerators even have ice, so you won't have to skip adding some ice cubes to your favorite beverage!
5. Television. When you spend a lot of time outdoors, TV may be one of the comforts of home you'll come to miss. However, you may not need to. Some RVs come with direct broadcast satellite antennas, which will air your favorite channels. If that's not an option, you can bring a laptop or tablet and use the campground's Wi-Fi to access Netflix or Hulu.
6. Bathroom. Camping used to mean using the public bathroom and showering facilities on-site at a campground. Fortunately, when you go on an RV camping trip, you don't have to miss out on this comfort of home. RVs have bathrooms with toilets and sinks, even showers.
7. Heating and air conditioning. Are you worried about being too hot or too cold while making an RV your home for a week or more? No need to worry. RVs generally come with central heat and air conditioning. Some RVs also come with electric or gas fireplaces. No matter what amenities are included in your RV, you will be able to set the temperature to your liking.
8. Shaded outdoor seating. If you're used to sitting beneath an umbrella on your back porch, you will enjoy the self-retracting awnings that are built onto RVs. It's a snap to retract the awning for protection from the sun and rain when you sit outside.
9. Family games and activities. If you and your kids normally play cards or Monopoly after dinner, you don't have to skip out on your favorite pastime. Bring your own playing cards or board games and play them at a table in your RV! Even if this isn't an activity you and your family members regularly do at home, it can make for a fun camping experience.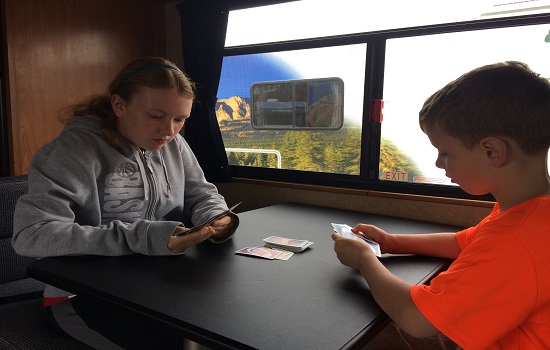 10. Your family. What other comfort of home do you really need besides your family? Your children may not be sleeping in the same bed they always sleep in, but you'll still feel like you're right at home when you see them snuggled up.
These are just a few of the many comforts of home you'll be able to enjoy from your RV. While it won't be quite the same as being in your own home, your camping experience should be quite a comfortable one inside an RV.