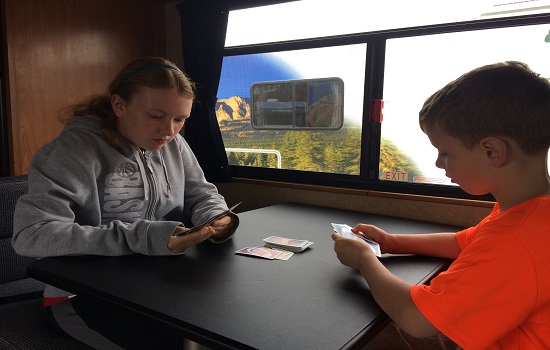 Taking a family RV trip can be a lot of fun for kids. From hiking and kayaking to exploring National Parks and landmarks, there's something for children of all ages. But how can you keep your kids occupied when the sun goes down or it's a rainy day that doesn't allow for outdoor adventures? Fortunately, there are a number of ways to quickly head off boredom.
Take a look at our picks for the best ways to keep the kids entertained in the RV:
1. Card Games. Card games are a fantastic way to entertain the whole family during your RV trip. Of course, there are timeless favorites, like Go Fish and Crazy Eights. UNO and Skip-Bo are also easy games that can be enjoyed by kids as young as six or seven. Even a simple deck of playing cards can provide a great opportunity to teach the kids to play Spades, Hearts or Gin Rummy.
2. Board Games. One great thing about an RV is that it's easy to play board games, like Monopoly, Scrabble or Clue, even when the RV is moving on down the highway. A couple of other favorites include classics, like Checkers and Chess. Bring some from home, or pick up a few new ones. It's easy to search Amazon for board games best for different age groups.
3. Books. If you're planning an RV trip when the kids are on summer break, be sure to hit the public library or the school website for reading lists before you go. You may also want to hunt down books relevant to travel, road trips, summertime or your travel destinations. Many blogs often post suggested road trip books during the summer. Small children may enjoy picture books, while older kids may be better with a Kindle. 
4. Coloring Books. Kids love to color. Adults do too judging by the number of adult coloring books that are now available. So pack coloring books for both the kids and adults, along with crayons, markers and colored pencils. It's an activity that the whole family can enjoy whether on the road in the RV or sitting around a campfire in the evening at your campsite.
5. Travel Games. There are all kinds of pocket-size and travel-style games that are easy to bring with you on an RV vacation. Many times these games are smaller and have fewer pieces. A few fun ones to check out includes 50 Road Trip Games, Rubberneckers and Auto Bingo. And then of course there are games that only involve a pencil and a piece of paper, like Tic Tac Toe and Hangman.
6. Activity Books. Fun activity books can be a real lifesaver when on a long road trip. There are all kinds of activity books on the market whether you're looking for books that are more fun or more educational. Try Carschooling and License Plates Across the States: Travel Puzzles and Games, both of which can be enjoyed by kids on their own.
These are just a few of our favorite ways to keep kids entertained in the RV. If you find that your children get bored, tap into your imagination and try out something different for the whole family to do.